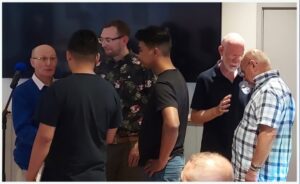 The new Chapter held its 1st meeting on 9th September 2023, with speaker Keith Oliver BEM (president of Chippenham Chapter).
Twenty-six men, including Regional Director Richard Cordy, joined the new Chapter's President, Steven Feven-Williams, for breakfast. Despite the heatwave, and problems with the kitchen's aircon, the staff were very welcoming and it was an enjoyable morning during which three men made a commitment to Christ.
We pray that the new Chapter will build on this initial success and inspire others to do likewise.